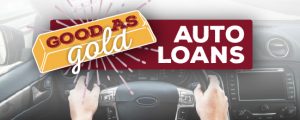 Check out our Good as Gold Auto loan rates to purchase or refinance a new or used vehicle. Rates as low as 3.24%APR*. Save as much as $2,681.90 in interest over the life of your loan! Contact us today to learn more.
In celebration of our 50th anniversary, when you give us a testimonial or photo, we'll give you $50** for sharing your golden moment!
*APR=Annual Percentage Rate. Subject to credit approval. Rate subject to change at any time without notice. Savings amount of $2681.90 is based on the average loan for a new auto at $27,716. 58 at Harvest's rate of 3.24%APR compared to the average bank rate of 5.70%APR (from Bankrate.com) over a term of 72 months. Promotion valid February 1 – April 30, 2020. Current HFCU financed loans are not eligible. **$50 incentive will be deposited into member's account after it has been verified that the member has submitted a photo and/or testimonial to the credit union via in person, email, or the credit union's Facebook page. The member will be required to sign a waiver at the time of the loan closing. By posting a photo and/or testimonial to the credit union's Facebook page, the member is authorizing the use of their photo, name, and testimonial for promotional purposes and other than the one-time $50 deposit, no other monetary compensation will be provided.