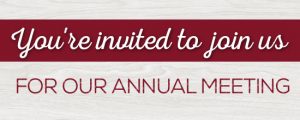 Please join us for the Annual Meeting of members on March 16, 2021, at 6:00pm. It will be held at Southgate Church of Christ, 1075 S 30th St., Heath. We will be awarding two college scholarships during the meeting. Registration begins at 5:30pm.
While there is no cost to attend, we ask that you RSVP with the number of members attending by March 10th. You may call us at 740-522-5277 to RSVP.
Please note: Due to the uncertainty of the pandemic we may need to change the format of the meeting closer to the time. Please stay tuned to our website for updates as they are available.