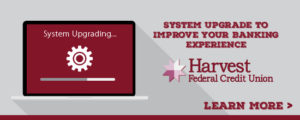 This fall (September 1), we'll be making important system upgrades to better serve you and improve your overall membership experience. Please refer below to stay in-the-know about how your account access and capabilities will change during this time:
ENHANCEMENTS AND CHANGES:
As a member, you can expect to see new and/or improved versions of the following:
Online Banking platform
Mobile Banking app for Apple & Android

Access by searching for "Harvest Federal Credit Union" in the App Store or Google Play on or after Tuesday, September 4, 2018. 

Text Banking
            WHAT REMAINS THE SAME?
You will not have to make any adjustments to the following:
Account number
Checks
Debit cards/PINs
Credit cards
Direct deposit/pension/Social Security
Established automatic account withdrawals
           SCHEDULED SYSTEM DOWNTIMES:
The upgrade will take place after close of business on Friday, August 31, 2018.
You will not be able to access NetBranch Online Banking/Bill Pay and RockLine Phone Banking beginning at 4:00 p.m. on Friday, August 31. These services will be down through Labor Day weekend.
The upgraded version of Online Banking will be available when the branch re-opens during normal hours on Tuesday, September 4. 
          SCHEDULED BRANCH CLOSURES: 
While we are normally open on Saturday mornings, the credit union will be closed on Saturday, September 1 during the transition. The credit union will be open all day Friday, August 31 during regular business hours. 
         DEBIT/CREDIT CARDS AND SHARED BRANCHING ACCESS:
Your Harvest debit card(s) will be put in stand-in mode at approximately 4:00 p.m. on Friday, August 31. This will result in lower limits when making purchases. Regular limits will resume on Tuesday, September 4. 
Harvest FCU credit cards will not be affected by limit reductions – we encourage you to utilize your existing credit card or open a new one for easier purchasing over the weekend.
Shared Branching will be unavailable after 3:00 p.m. on Friday, August 31. Availability will resume on Tuesday, September 4. 
         ONLINE BANKING RE-ENROLLMENT INFORMATION:
You will need to re-enroll in Online Banking on Tuesday, September 4. This will automatically enroll you to receive e-statements in the new system. To re-enroll you will need your member account number, social security number, date of birth and the email address we have on file.
Because e-statement history will not transfer over, it is recommended that you save your statement history from NetBranch as a PDF before Friday, August 31 on your secured home computer. 
If you bookmarked Harvest FCU's NetBranch Online Banking URL in your web browser, you will need to access the new online banking system via our website and bookmark the new URL.
Please contact a member of our staff at (740)522-5277 with any questions you have regarding this transition – as always, we're happy to help!