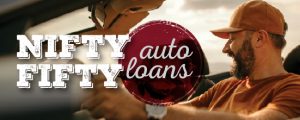 We are Golden in September to celebrate our 50th Anniversary with a special auto loan promotion! Whether you are needing a new vehicle or you want to lower your current monthly car payment from another lender, we're here to help! We'll take 0.50% off your approved rate PLUS, for a limited time you will get a $50 bonus as an extra thank you!*
Contact us today to apply!
*APR=Annual Percentage Rate. Subject to credit approval. Loans currently financed with Harvest FCU are not eligible for refinance. $50 cash bonus to be deposited into member's savings account upon loan closing. Length of promotion subject to change at any time without notice. For complete details, contact the credit union. Membership eligibility required.