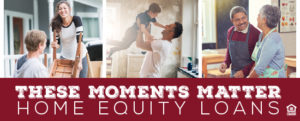 That moment when you:
– Feel the relief of paying off debt
– Enjoy the satisfaction of home repairs
– Improve your home and your life
– Smile as you make that big purchase
Call us about a Home Equity loan today.  Payments as low as $184 per month* when you borrow $10,000 for 60 months.
*Payment example: $10,000 financed at 3.99% APR is $184.14 for a 60-month term. APR=Annual Percentage Rate. Other rates and terms available. All rates subject to change without notice and are subject to normal underwriting procedures. Loans must be secured by primary residence, which must be owner occupied. Membership eligibility required. See credit union for details.