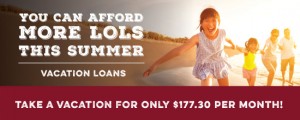 Summer is almost here – school is almost out, and it's time to start thinking about summer vacation!  Check out our Summer Vacation Loan!
Borrow up to $3000 for as low as 7.9% APR* for 18 months!  Call us today at 740-522-5277!
*APR=Annual Percentage Rate. Payments based on lowest rate of 7.9%APR for 18 months. Rates based on creditworthiness. You may not qualify for the lowest rate. See credit union for our qualifying rate. Offer may not be combined with any other offer and applies to new credit union loans only. Loans currently financed with the credit union are not eligible for promotion. Promotion ends July 31, 2017. Rates subject to change at any time. Membership eligibility is required.