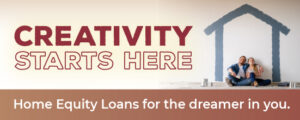 Dream Big! Use your home's equity to make home improvements or a large purchase or to consolidate debt and save money with lower monthly payments. You can get a fixed rate loan with predictable monthly payments. Rates as low as 5.49%APR for 60 months or Rates as low as 6.25%APR for 120 months.
Apply today and save!
*APR=Annual Percentage Rate. Rates based on creditworthiness and may be higher. Minimum loan amount to receive promotional rate is $10,000. All rates subject to change without notice and are subject to normal underwriting procedures. Loans must be secured by primary residence, which must be owner-occupied. Membership eligibility required. All loans subject to approval. See credit union for details.