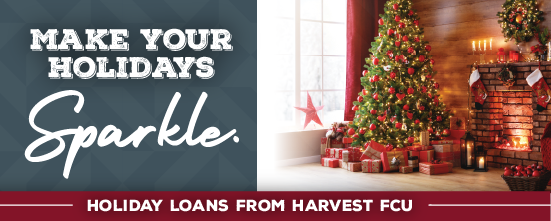 Make your holidays sparkle with our holiday loan. Affordably pay for gifts, decorations, travel and more with a holiday loan!  Our special holiday loan is from November1st to December 23rd.  Borrow up to $1500 at 9.99%APR* for 12 months.  Call today to apply or apply on-line. Sample payments below:
Borrow $1000 – $89 per month
Borrow $1200 – $106 per month
Borrow $1500 – $133 per month
*APR = Annual Percentage Rate. Subject to credit approval. Rate subject to change at any time without notice. The maximum loan amount is $1500. Offer valid November 1 – December 23, 2023. Offer may not be combined with any other offer and applies to new credit union loans only. Loans currently financed with credit union are not eligible for promotion. Payment examples based on sample amount borrowed at 9.99%APR for a 12 a month term. Membership eligibility is required.